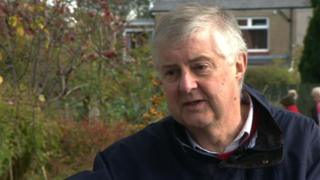 The Welsh Labour leadership race front runner has been criticised by rivals for saying he has no "great personal ambition" to be first minister.
Mark Drakeford said he would not look forward to question time or media interviews that are central to the job.
Eluned Morgan said: "The public won't like it if they sense a reluctance in the candidate who wants to be FM."
A senior source in Vaughan Gething's campaign said: "We've been in power 20 years, we need someone to inspire."
Drakeford no 'personal ambition' to be FM
The source told BBC Wales the comments by Mr Drakeford, the finance minister, about not looking forward to doing First Minister's Questions were "giving ammunition to opposition parties".
Ms Morgan said "you've got to be hungry for the job" because there are "lots of challenges ahead in a difficult time".
When Mr Drakeford first discussed running to succeed Carwyn Jones, he said he envisaged leading Welsh Labour into the next assembly election, in 2021, and then standing aside for a "new generation of leaders to put themselves forward for election".
Responding to the criticism on Wednesday, Mr Drakeford said: "I believe I am best placed to serve the party and the country at this most challenging point in our history."
He said that if he wins the leadership he will work "tirelessly" and with all the energy he has "to make a success of those responsibilities on behalf of the Welsh people."