'All restaurants and pubs must treat the issue seriously and appoint safety officers. This chalta hai attitude cannot work.'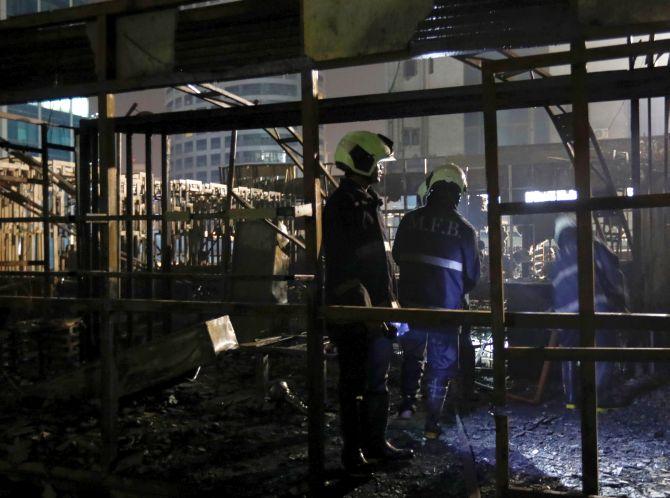 IMAGE: Mumbai Fire Brigade officers inspect the scene of fire in a restaurant in Kamala Mills. Photographs: Danish Siddiqui/Reuters, Satish Bodas/Rediff.com
Kishor Shinde, below, who was a vigilance officer at Mumbai's Hotel Taj Mahal, saved nearly 100 people during the 26/11 terror attacks. 
Employed now with a news television company located in a building inside Kamala Mills compound, he rushed out on seeing the blaze on Thursday night and helped in evacuating many people who were caught in the fire. 
He shares his experience with Syed Firdaus Ashraf/Rediff.com.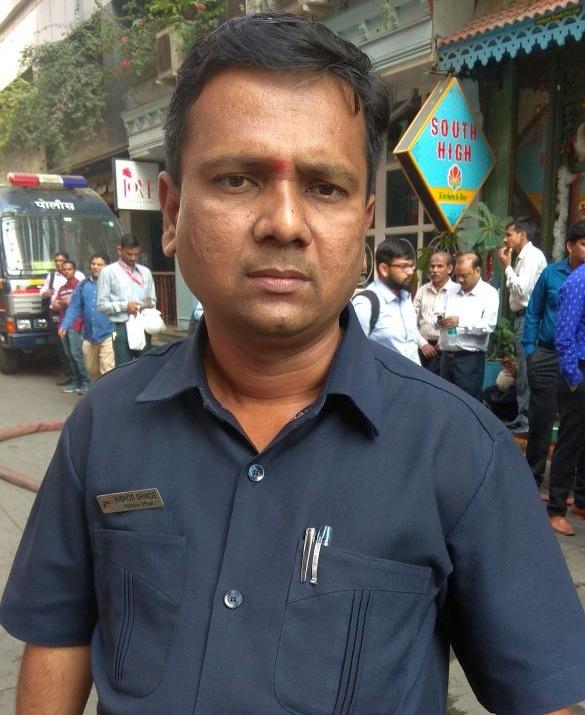 The fire started around 12.15 am and due to the strong winds it spread very fast.
I called the fire brigade immediately and they reached the spot in 30 minutes.
I, along with two of my colleagues, Mahesh Sable and Suresh Giri, first switched off all the electrical points in Trade House building.
Times Now staffers were immediately rescued and we ensured they were out of the building since it was our duty.
Unfortunately, neither 1 Above pub nor Mojo lounge has any security officer, they only have bouncers.
I feel if they had trained security officers, things would have not gone that bad.
Worse, both the places had only one exit and therefore the casualties were more.
When we reached the place we evacuated at least 30 people. We went inside the kitchen of the restaurants and removed the gas cylinders, it was our top priority, as we knew if the fire spread to the kitchen area there could be an explosion. Luckily, we managed to do that.
While one person went to the kitchen, the other two started moving the injured people to safety. There were 10 of them.
Sadly, 10 people died due to suffocation, they were gasping for breath in the smoke. There was no sign of burns on their body. In comparison, five persons died due to burns.
As citizens we all need to be alert about fire safety. Whenever we enter hotels, we must look at fire extinguishers, where they are placed. Nobody takes this issue seriously. 
Also, exit points must be framed in your mind so that you can escape if there is an emergency.
Lastly, I feel all restaurants and pubs must treat the issue seriously and appoint safety officers. This chalta hai attitude cannot work.
If we keep ignoring this issue and not appoint safety officers, such incidents will keep happening.