By John Greenwood, Chief Economist on May 4, 2018, in Market & Economic
Can President Ramaphosa make the tough policy decisions needed to spur economic growth?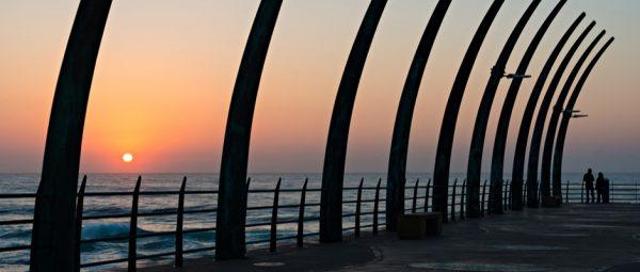 Volumes have been written about the scandal-tainted regime of former South African President Jacob Zuma. Since becoming leader of the country in 2009, Zuma was dogged by allegations of corruption, nepotism and poor personal judgement, and national prosecutors recently reinstated corruption charges against him. With his recent resignation and the ascension of new president, Cyril Ramaphosa, in February, international and domestic sentiment toward the country (and its economy) has improved dramatically. However, South Africa faces significant economic challenges. To reverse the declining trajectory of the economy, I believe a number of tough policy choices are needed:
The state-owned enterprise sector needs to be restructured.
The large size and cost of government should be reduced.
Labor market reform is needed to combat chronically high unemployment.
South Africa must become more attractive and friendly to foreign investment.
Issues to watch for investors
During his inaugural State of the Nation address earlier this year, Ramaphosa offered a number of proposals on several hot-button topics. Some were very encouraging to investors, while others raised concerns about their potential impact on the economy. Among them:
State-owned enterprises (SOEs). On the positive side, the president proposed a review of the funding model for SOEs. This sector has long been an underperformer that relies on government support, often in the form of explicit guarantees (approximately 6.4% of gross domestic product (GDP) in 2017, according to the South African National Treasury).
Many SOEs act as vehicles to support targeted economic development, but governance failures due to weak accountability, excessive politicization and unclear objectives have hindered their effectiveness. Bureaucratic bloat is also an issue – currently, about 35% of government expenditures are for salaries. In my view, the first steps in improving SOE performance would require setting realistic profitability metrics, increasing accountability and enhancing competitiveness through smarter regulation and partial privatization.
Reducing the government deficit. Ramaphosa has acknowledged that the number of government departments could be trimmed. The ratio of government debt to GDP has been rising since the global financial crisis, nearly doubling since 2009.1 Moody's Investors Service, the only ratings agency currently maintaining an investment grade rating for South African debt, is paying close attention. To improve the fiscal situation, the 2018 budget includes a mix of tax increases and modest spending cuts that are projected to reduce the 2020 deficit to 3.6% of GDP (from 4.3%).2 This is an important first step, because any additional credit downgrades by Moody's would require the removal of South African bonds from the Citigroup World Government Bond Index. Analysts estimate this would trigger as much as $14 billion in capital outflows.
On the other hand, other proposals would increase spending and could worsen the country's fiscal situation. These include:
Free higher education. The tax increases and spending cuts discussed earlier were successful in lowering the projected fiscal deficit to 3.6% of GDP by 2020.2 However, the new president supports a policy of free higher education – this cost was not included in that projection. As proposed, about 75% of households will qualify for this benefit.
Other government programs. Other policies supported by the president include national health insurance and a national minimum wage.
Economic conditions are generally improving
Unlike many other emerging economies, South Africa has managed to maintain stable monetary conditions since the global financial crisis, with increases in broad money (M3) and bank lending growth averaging in the single digits. The current account deficit has narrowed by more than half since its high during the third quarter of 2013, and inflation has been well-contained. In March the South African Reserve Bank cut its repurchase rate by 25 basis points to 6.50%,3 and more cuts are likely. January 2018 inflation, as measured by the Consumer Price Index, was lower than expected at 4.3% year-on-year, with core inflation down to 4.1% year-on-year.1 Also contributing to the benign inflation outlook is the strong national currency: Since Ramaphosa was elected leader of the African National Congress, the rand has appreciated nearly 20% against the US dollar.1
The optimism surrounding the election of the new president has had wide-ranging impact. Housing prices were up 5.1% in the fourth quarter of 2017, and equities have also benefited.1 The FTSE JSE (Johannesburg) Index is up 15.4% (in US dollar terms) since June 2017, outperforming the Russell Emerging Markets Index.1 The prospect of further rate cuts this year should provide continued support. Also, the most recent read on GDP from the third quarter of 2017 was above consensus at 2.0% annualized.1 Farming, mining, manufacturing and financial services all showed steady growth.
Persistently high unemployment
The alarmingly high level of unemployment is a major challenge for the Ramaphosa presidency. In the fourth quarter of 2017, it fell slightly but was still 26.7%.1 While the dip was encouraging at the surface, it was generally attributable to a decline in the participation rate rather than an increase in hiring. If the measurement of unemployment were expanded to include those who had stopped seeking work, the rate was 36%.4 It is believed that job growth may return in 2018 due to economic policy reform and a rebound in business confidence and investment.
A way forward
There are several positive trends in South Africa: Monetary conditions are stable, asset prices are climbing, the current account and budget deficits are both falling, inflation is contained and the local currency is strong. The international community is also bullish on the new president, who has promised to review areas of investor concern like state-owned enterprises and the size and cost of government. However, unemployment remains stubbornly high and the president has aligned himself with populist positions such as free higher education that could swallow all the savings from tax increases and spending cuts. Time will tell which proposals come to fruition and how the impacts will add up for the economy and investors.
1 Source: Macrobond, Data as of March 5, 2018
2 Source: Morningstar.com, "South Africa's Budget Deficit Should Reduce to 3.6% of GDP in 2018/19," Feb. 21, 2018
3 Source: South African Reserve Bank, "Statement of the monetary policy committee," March 28, 2018
4 Source: South Africa Market Insights, data as of Feb. 26, 2018
Important information
Blog header image: Timothy Hodgkinson/Shutterstock.com
The FTSE JSE (Johannesburg) Index is the oldest existing and largest stock exchange in Africa. It is an unmanaged index considered representative of the African stock market.
The Russell Emerging Markets® Index, a trademark/service mark of the Frank Russell Co.®, is an unmanaged index considered representative of emerging-market stocks.
The Citigroup World Government Bond Index (WGBI) measures the performance of fixed-rate, local currency, investment grade sovereign bonds. This widely used benchmark currently comprises sovereign debt from over 20 countries, denominated in a variety of currencies. With more than 25 years of history, the WGBI provides a broad benchmark for the global sovereign fixed income market.
M3 is the broadest measure of an economy's money supply.
The consumer price index (CPI) measures change in consumer prices as determined by Statistics South Africa.
This does not constitute a recommendation of any investment strategy or product for a particular investor. Investors should consult a financial advisor/financial consultant before making any investment decisions. Invesco does not provide tax advice. The tax information contained herein is general and is not exhaustive by nature. Federal and state tax laws are complex and constantly changing. Investors should always consult their own legal or tax professional for information concerning their individual situation. The opinions expressed are those of the authors, are based on current market conditions and are subject to change without notice. These opinions may differ from those of other Invesco investment professionals.
| | | |
| --- | --- | --- |
| NOT FDIC INSURED | MAY LOSE VALUE | NO BANK GUARANTEE |
All data provided by Invesco unless otherwise noted.
Invesco Distributors, Inc. is the US distributor for Invesco Ltd.'s retail products and collective trust funds. Invesco Advisers, Inc. and other affiliated investment advisers mentioned provide investment advisory services and do not sell securities. Invesco Unit Investment Trusts are distributed by the sponsor, Invesco Capital Markets, Inc., and broker-dealers including Invesco Distributors, Inc. Each entity is an indirect, wholly owned subsidiary of Invesco Ltd. PowerShares® is a registered trademark of Invesco Ltd., used by the investment adviser, Invesco PowerShares Capital Management LLC (PowerShares) under license. PowerShares and Invesco Distributors, Inc., ETF distributor, are indirect, wholly owned subsidiaries of Invesco Ltd.
©2018 Invesco Ltd. All rights reserved.
South Africa: New leadership brings new optimism by Invesco US