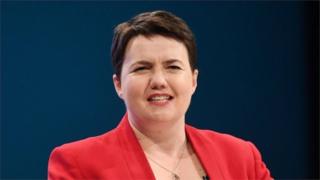 Former minister Theresa Villiers has appeared to back Ruth Davidson as the next Conservative leader.
She was taking part in a debate on the Conservative Party fringe about how the party can win the next election.
Panel chairman Tom Kibasi, of the IPPR think tank, listed Tory MPs, such as James Cleverly and Johnny Mercer, who have been tipped as future leaders.
An audience member shouted "or Ruth Davidson", to which Ms Villiers replied: "Oh that would be great."
She later declined to name names when asked who should be the next Tory leader after Theresa May.
'Fratricidal leadership election'
Asked if a "magic, heroic new leader would take you to victory at the next election", the former Northern Ireland secretary paused for several seconds before replying: "Whoever the leader is wouldn't resolve the problems we have."
She added: "We have a leader, we need to back her and if we get involved in some divisive, embarrassing, fratricidal leadership election that's the last thing we should be doing."
Let's shape up, Theresa May tells Tories
Kuenssberg: Fears of a downward spiral
She said the party had to make "more people like us" before it could win another election, adding that voters at this year's election were "exhausted" with austerity.
Pressed further on the leadership question, she said she was a "great admirer" of James Cleverly, a black former Territorial Army officer and ally of Boris Johnson, as someone who was good at getting the party's message across to non-Tory voters.
Conservative members lined up to criticise the general election campaign and the state of the party machine at the meeting, with one saying he was no longer proud to be a Conservative and another attacking the "boring" and "uninspiring" cabinet.
Ms Villiers, who was replaced as Northern Ireland secretary last year by Mrs May, did her best to defend her former cabinet colleagues, and warned against "rushing into Corbyn-light" policies to deal with a resurgent Labour Party, given that the Conservatives had increased their vote share to levels not seen since 1979.
But she said the party had to do more to appeal to younger voters and boost membership, while conceding it was never likely to become a "mass" movement like "other parties".
Ms Davidson, who has led the Conservative revival in Scotland, indicated at the start of the party's conference in Manchester that she had no interest in a leadership challenge.
Attacking the "Tory psychodrama" surrounding speculation over Theresa May's leadership, she told party members she has no plans to move to London.