The latest Employment Outlook Report (HY1-2018-19) by TeamLease Services forecasts an increase of 4% in the net employment outlook to 95%, for the period from April– September 2018 as compared to 91% for the preceding half-year, October-March 2017-18. 
Speaking about the report, Ms. Rituparna Chakraborty, Co-Founder & Executive Vice President, TeamLease Services, said, "Job market across the globe is going through its transition phase with advanced technological interventions making their way to our lives. Asia-Pacific region has the most positive net employment outlook (62%) across global markets for the April-September, FY 19 as compared to October- March, FY 18. In fact, the positive hiring sentiment when benchmarked against global markets shows India to be ahead of the APAC (global leaders) by 33 percentages and ahead of Europe (global laggard) by 54%. The overall positive sentiment is in alignment with the growth in GDP. " 
The report surveyed 695 small, medium and large companies across 16 sectors in 8 cities to understand the hiring sentiments. The outlook is based on the basis of an increase in GDP and optimistic economic growth.
According to the report, eight out of sixteen sectors surveyed have indicated positive hiring sentiments with overall positive sentiment. Majority cities, 5 out of 8, have shown positive outlook towards hiring and the medium-size businesses were most optimistic (5% improvement over the past half-year) towards the hiring sentiment.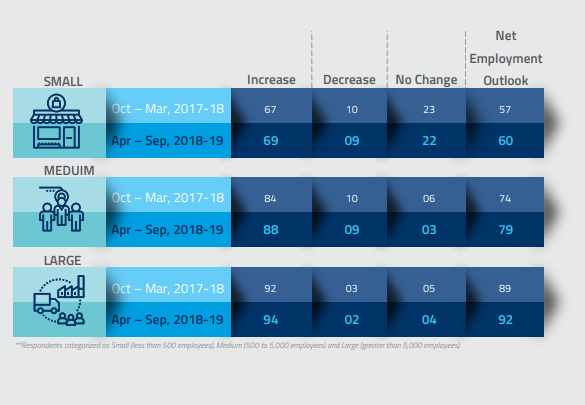 As per the report, the Knowledge Process Outsourcing (KPO) sector will be the biggest gainer with 4% increase in the hiring sentiments, over the past half-year, across the employers surveyed with Ecommerce & Technology startups at 3%, Financial Services at 3%, Media & Entertainment at 3%,  Retail, BPO/ITeS and FMCG at 2%.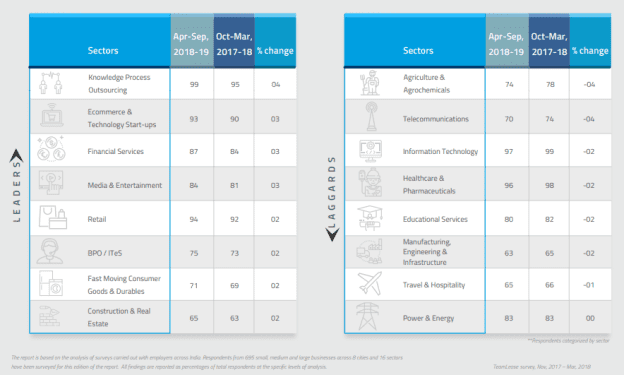 However Agriculture & Agro Chemical and Telecommunications are the top laggards in the first two quarter of the year with a 4 percentage points drop, followed by Healthcare and Pharmaceuticals (-2%), Education Services (-2%), Manufacturing, Engineering & Infrastructure (-2%) and Travel & hospitality (-1%).
Here are the key findings of the survey: 
The recovery is attributed to the hiring sentiment for Junior and mid level roles (+4%), Blue Collar roles (+5%) and Sales and Marketing profiles (+4% each).

Medium-sized businesses (+5%) looking to hire in Metro and Tier-1 cities (+3%). The outlook improves by a significant 4% for large businesses and by 3% for small businesses.

The outlook improves significantly in Mumbai (+4%) followed by Delhi (+3%) Bengaluru, Hyderabad, and

Pune (+1% each).

However

, it has significantly gone below in Kolkata (-3%), Ahmedabad (-2%) and Chennai (-1%).

Five of the seven Functional Areas – Blue Collar (+5%), Sales (+4%), Marketing (+4%), Information Technology (+2%) and Engineering (+1%) – are sought after by employers. Office Services (-1%) and Human Resources (-2%) are associated with a drop in sentiment.

Manufacturing makes a smart recovery, although hiring sentiment in the sector remains slightly low (-2%, up from -5% during the previous HY).
 Meanwhile, city wise, the top sectors for different cities stood as follows-
Mumbai: Financial Services (+4%), 

Delhi: Media & Entertainment and BPO/ITES (+4% each); 

Bengaluru: Financial Services, Media & Entertainment, and Ecommerce & Tech start-ups (+4% each)

Kolkata: Financial Services and Ecommerce & Tech start-ups (+4% each)

Chennai: Financial Services, Retail, Media & Entertainment and Ecommerce & Tech start-ups (+3%) 

Pune: Media & Entertainment (+4% each) 

Hyderabad: Ecommerce & Tech start-ups and Media & Entertainment (+4%)

Ahmedabad: Ecommerce & Tech start-ups (+5%)