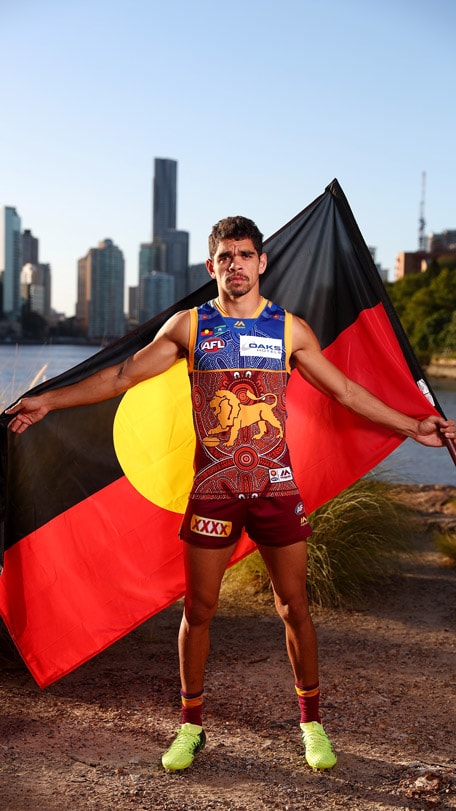 Charlie Cameron models the Lions' indigenous jumper for 2018. Picture: Brisbane Lions
WHILE Luke Hodge has got a stack of credit for bringing leadership to Brisbane, another Lions recruit has flown under the radar in that area, says midfielder Allen Christensen.
Although sometimes "you can't get him to shut up", former Crow Charlie Cameron has been just as influential off-field as he has on it, Christensen said.
"In meetings, and it's something I didn't expect out of him, he's quite harsh on himself and he'll give direction to other boys if they're going against the game plan," Christensen said.
"He's come from a club with a really strong culture in Adelaide that will pick up on things they don't like.
"If he sees something he's done wrong or one of the boys have gone against the game plan, he'll pick that out, but he's always the first bloke to give some praise.
"He's really good at giving feedback."
On-field, Cameron has been a sensation in his first season with the Lions, kicking 17 goals, assisting 10 others and taking a Mark of the Year contender in his first 10 rounds.
The 23-year-old said leadership was something that had grown on him after being one of the Crows' youngest in his early years.
Not only was he young, but he played in a forward line alongside established stars Taylor Walker, Eddie Betts, Josh Jenkins and Tom Lynch, and said he was happy to sit back and learn.
"They put it on me to talk more as I played more games," Cameron said.
"Coming from Adelaide and trying to take what I've learnt from them to this team here, trying to help on field and off-field as well, I'm enjoying the challenge.
"I'd like to influence instead of lead, influence other players and help them out. I'm not really a natural leader."
Christensen said Cameron had been a major catalyst for Brisbane's improvement this season.
"The big thing with him is his speed, he's blistering," Christensen said.
"He puts so much pressure on. Even if he's not getting the ball … his pressure and speed is through the roof.
"We've lifted our intensity in the last month with our pressure, and probably him and 'Zorks' (Dayne Zorko) lead that, coming forward and up in the face of opposition defence.
"He's awesome. He makes the boys laugh, he's a bubbly personality, so he's been a great get for the club."
Have you taken the 2018 fan survey?
Use the form below and you can have your say on footy's big and small issues.
Survey not working in the app? Click here to open in a web view

(function() { var qs,js,q,s,d=document, gi=d.getElementById, ce=d.createElement, gt=d.getElementsByTagName, id="typef_orm", b="https://embed.typeform.com/"; if(!gi.call(d,id)) { js=ce.call(d,"script"); js.id=id; js.src=b+"embed.js"; q=gt.call(d,"script")[0]; q.parentNode.insertBefore(js,q) } })()