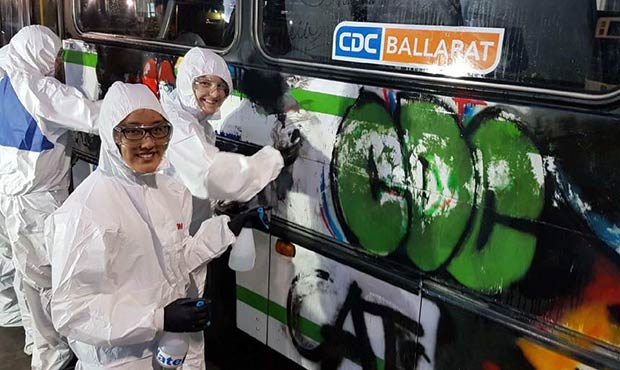 CDC Victoria assisted the Western Bulldogs Community Foundation in driving this year's Leadership Project across 10 separate locations throughout Victoria's western region.
Travelling 17,183 km throughout the 2017 program, equating to one whole drive around Australia, CDC allowed the Leadership project to visit sites in Maribyrnong, Melton, Ballarat, Hepburn, Golden Plains, Ararat, Northern Grampians, Glenelg, Warrnambool and Mildura.
Delivering the graffiti workshop across five locations this year, CDC Victoria have worked alongside the Leadership Project (formerly The Whitten Project) since its inception in 2013.
Leadership Project Manager, Adam Moedt expressed his gratitude to CDC for driving the Leadership Project in 2017.
"CDC Victoria have been a great supporter of the Leadership Project since the beginning and produce a workshop that's enjoyed by all," he said.
"The session educates the future leaders of tomorrow about the cause and effects of graffiti tagging in our community, while providing young people with the skills to be social leaders in their communities on the issue of graffiti and vandalism."