Last week UTV's 'View from Stormont' broadcast a package which reported on an engagement between Sinn Féin activists and some from within political unionism.
This initiative is the culmination of a recent private conversation I had with John Kyle, a Belfast City Councillor and deputy leader of the Progressive Unionist Party (PUP) about anti-sectarianism.
John had initially criticised Sinn Féin's 'Stand up Against Sectarianism' #SUAS  campaign, and I challenged him to organise a public meeting on this issue in his own constituency and invite me to speak.
We decided to involve Professor John Brewer from the Mitchell institute at Queen's University in our discussion, because we both knew him quite well.
John Brewer offered the Institute's assistance in hosting a series of discussions to open up participation involving Republicans, Unionists and others. One event has now occurred on anti-sectarianism and two others are planned on civility in politics and the concept of equality.
John Kyle and I have had many discussions over the years. We have spoken together in public and met with others privately. Quite often we have met on our own and had some very blunt exchanges.
John is a left of centre unionist: he was a friend of the late David Ervine a former PUP leader. Of course, I am a lifelong Irish republican activist and Sinn Féin member. 
We also have respect for each other.
But we both accept the importance of being able to agree to disagree. We agree on the need for continuous political engagement: that is very important.
Once barriers to engagement are erected mindsets harden. Misperceptions can become ossified. Problems don't get addressed. They become more intractable.
Without engagement resolution will not be found.
This is the vital lesson of our peace process. It's the secret to understanding how the Good Friday Agreement (GFA) came about.
Engagement is indispensable to making political progress.
There has been a significant reaction to the UTV broadcast which had as its centre piece a recorded conversation between John Kyle and I in the pew of Fitzroy Presbyterian Church, during which we discussed  sectarianism, the need for reconciliation, dealing with the past, common ground issues, and how to move our society forward.
Some of the feedback received said it was an example of political leadership that a robust conversation on tough issues could take place in a mutually respectful way.
More than a few said the dialogue communicated hope amidst the deep political crisis in the North.
The TV package produced was also an example of responsible, thoughtful, and good quality journalism and media work.
Afterwards many said that it was notable that this type of dialogue was taking place between Sinn Féin and a representative of the PUP, instead of with the Democratic Unionist Party (DUP),  which electorally dominates within political unionism.
However, that should not be surprising. Since 14th February, when the DUP publicly reneged on the definitive draft agreement with Sinn Féin, the party has effectively withdrawn from the political process. It has retreated into its laager, or bunker.
During the preceding five phases of negotiations since March 2017, the DUP rejected Sinn Féin's proposals on anti-sectarianism.
It did not want to discuss a new phase of the peace process based upon reconciliation and healing.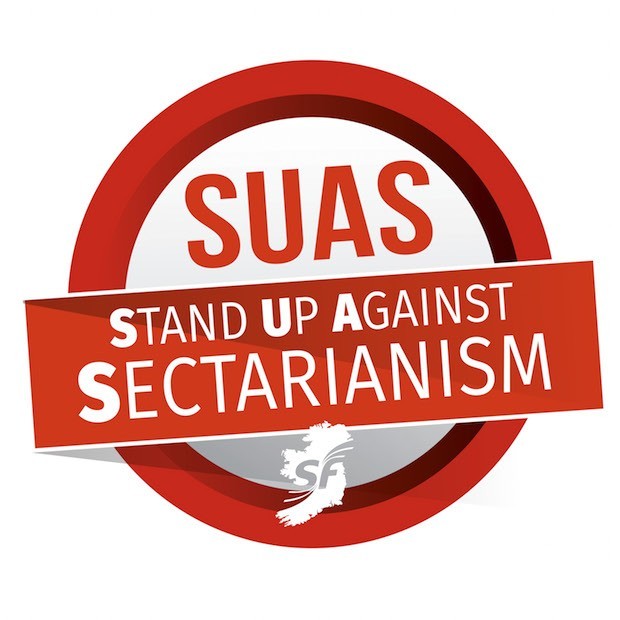 When the draft agreement was exchanged between Sinn Féin and the DUP on Friday 9th February which opened a way to delivering language rights, pursuing marriage equality and continuing an active discussion on the requirement for a Bill of Rights, the DUP leader abjectly failed to positively sell the deal. Then five days later she walked away from the negotiations.
Since then, through its refusal to constructively engage, the DUP has continued to block citizens' rights and the reestablishment of the regional political institutions.
That stance stems directly from the DUP's fundamental opposition to the GFA, and its vision of a shared anti-sectarian society which embraces equality, rights, parity of esteem and mutual respect.
British government policy from 2010, the onset of Brexit in 2016, and the formal political alliance between the DUP and British Tory administration have all emboldened the DUP's position.
A few years ago Jonathan Powell remarked that the Tories' approach to the peace process here was effectively relegating the north to a political backwater. He was correct.
Two weeks ago voters in the southern Irish state overwhelmingly repealed the eighth amendment of the Irish constitution.
The DUP also opposes the type of compassionate women's health care legislation for the North which will be introduced in the South of Ireland as a result of the repeal referendum.
The democratic rights vacuum which is now synonymous with the northern state has once more been brought sharply into focus.
Women's healthcare rights are now set to become another right delayed and denied in the North, alongside language rights, marriage equality and the rights of victims' families to maximum information disclosure.
The anti-rights agenda of the DUP is being enabled and reinforced by the Tory government.
Citizens' rights in the North of Ireland are being held hostage to the political and electoral survival of British Tories.
The present status quo is not sustainable.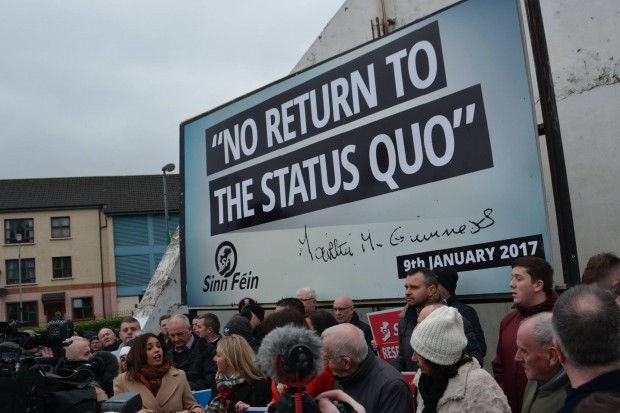 Brexit provides no refuge for either the DUP or the Tories.
The DUP is not in a comfortable position: key figures in that party have big decisions to make.
The reality is that some within the DUP are uncomfortable with its anti-rights agenda; the sectarianism, homophobia, racism and intolerance which characterises their party; and its hostility to reconciliation and healing.
They know these are unreasonable and indefensible positions.
They know there was a deal on the table with Sinn Féin that could have restored the political institutions, and which should have been positively embraced.
They know Sinn Féin acted at all times in good faith.
The DUP is not a monolith.
However, others in the party oppose anti-sectarianism, a rights-based society, and proper power sharing because they prefer communal and political division.
They calculate instinctively and electorally that their dominance and influence depends upon sectarianism and sectarian segregation.
These are the people who are in charge of the DUP and they are giving negative leadership.
Civic unionism is being denied positive political leadership by the DUP, as well as access to a rights-based society and government in the North today.
Brexit has fundamentally changed the entire landscape of Ireland, North and South. It has swept away all of the old, established constitutional, political and economic assumptions.
The denial of citizens' rights is no longer tenable. The debate on Irish unity is centre stage. The need to discuss a future unity referendum cannot be dismissed. The challenges of sectarianism and dealing with our past can no longer be avoided.
Now more than ever, courageous leadership is needed within political and civic unionism.
Instead some in political unionism, particularly the DUP and Ulster Unionist Party, are more comfortable trying to refight a war which is long since over.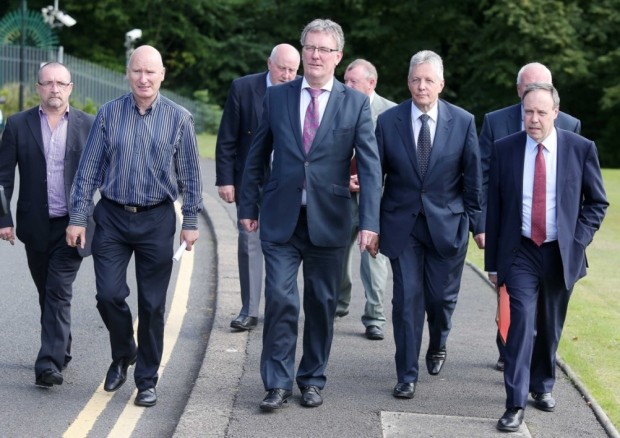 That is their excuse for not addressing the issues which really matter.
Those who are wedded to negative, diversionary politics are not serious about moving forward towards a shared future.
They constantly negotiate and conduct their politics by looking through the rear view mirror.
Republicans and unionists have to constructively engage to identify how we can find common ground and work together to deliver common solutions for the common good of society.
That must not be inhibited by the failure and crisis of leadership at the heart of political unionism.
The modest initiative undertaken by John Kyle and myself at this time of continued political crisis provides an example of the type of leadership that must be built upon and expanded across northern society.
Constructive political engagement, good faith, courageous and decisive leadership is the only way the political institutions will be re-established on a sustainable basis. It's time to make this happen and to give our people hope again.
It's time to reassert the ambition and vision of the Good Friday Agreement