LAS VEGAS — The HR Technology Conference 2017 was the stage for Armen Berjikly, senior director of strategy at cloud HCM vendor Ultimate Software, to declare AI in HR tech is quite real for his company.
Others at the bustling HR Technology Conference & Exposition — the 20th annual version of the biggest U.S. HR tech show — dismissed artificial intelligence (AI) as a lot of hype.
Ultimate intros AI tool
But Ultimate made news at the HR Technology Conference 2017 with a much-anticipated unveiling of its new AI-based employee feedback platform, Xander — named after American communications pioneer Alexander Graham Bell.
Other vendors, ranging from professional networking mega-vendor LinkedIn to dozens of startups, said they are making big investments in AI even as many in HR tech remain critical or skeptical.
Meanwhile, the HR Technology Conference 2017 appeared to mark the definitive arrival in HR tech of internet-generation tech giants like Google and Uber, as well as LinkedIn.
HCM suite vendors exploring AI
At the same time, dominant human capital management (HCM) suite vendors, such as Oracle, SAP SuccessFactors, ADP, Workday and Ceridian — all competitors of Ultimate — marched forward with system upgrades, some bearing hallmarks of AI.
"AI has come back," Berjikly proclaimed to a packed demo room at the ornate Sands Expo and Convention Center. "This time, it's back with a vengeance."
AI has come back. This time, it's back with a vengeance.


Armen Berjiklysenior director of strategy at Ultimate Software

The Ultimate executive was referring to an AI boom that hit the technology business two decades ago and then all but faded out. AI, along with close cousins machine learning and natural language processing, has re-emerged across the digital tech spectrum, even as few can agree on a common definition for it.
"Everyone's talking about AI. Lots of people seem to be doing something with AI, but what in the world is AI?" Berjikly said.
His conclusion: The best real world — not movie incarnation — of AI is creating software that complements and supplements humans and their emotions instead of seeking to replace humans.
Technology and human emotion
In HR tech, Berjikly said early promise has been realized by Xander, a natural-language-processing-assisted tool that analyzes emotions behind employee responses to open-ended queries about working conditions and corporate well-being. Ultimate said the software would help employers keep workers from leaving their jobs due to dissatisfaction.
Xander also provides AI-backed predictive analytics to aid managerial decision-making, even about such seemingly trivial matters as taking a subordinate out to lunch on his birthday.
After his public remarks, Berjikly told SearchHRSoftware that the AI tool is available now, and Ultimate plans to extend AI capabilities throughout the rest of its HCM suite.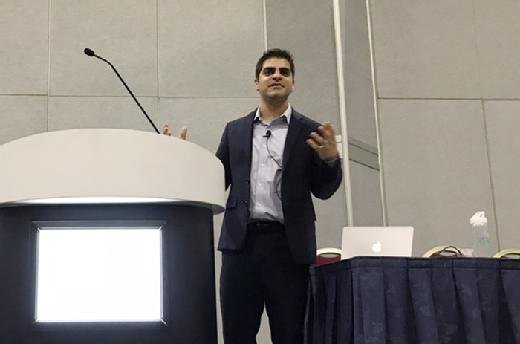 Analysts cautious but open about AI
The Ultimate move even impressed, somewhat, the occasionally caustic HR tech analyst John Sumser, who recently completed a research project on AI initiatives by major HCM vendors, as well as smaller startups. That report is expected to be out soon.
"There's no fully realized implementation of AI available here," Sumser said in an interview at the HR Technology Conference 2017. "But if you were to give an award for the closest thing to it that's available in the market, you'd have to give it to them. That doesn't mean it's AI; it just means they're closer than anyone else."
Similarly, veteran analyst Ron Hanscome, research vice president of HCM technologies at Gartner, said AI is more or less in its infancy in HR tech, but Ultimate and SAP, with its diversity software tools, have developed notable applications.
"I don't think anyone has gotten there yet. We're still in the early days," Hanscome said in an interview. "Just stayed tuned. Everyone is working it — no clear leaders."
Oracle's take on AI
For its part, Oracle downplayed AI, although it has emphasized what it calls "adaptive intelligence" in some of its HCM modules and a chat bot with which employers can talk to job candidates. But Oracle also said it sees promise for AI in its HCM cloud systems and is working on the technology.
Among Oracle's customers, there is "significant interest in anything that increases productivity," Gretchen Alarcon, group vice president of HCM strategy at Oracle, told SearchHRSoftware. "There's a lot of buzz right now about AI, a lot of attention, a lot of people talking. I think the question we need to ask is, 'How does this make your organization more productive?'"
LinkedIn makes AI play
As for LinkedIn, leaders of its Talent Insights and LinkedIn Talent Solutions product teams said the self-service product — announced last week and expected to be in beta development until 2018 — is at its core a big data analytics system built on AI.
LinkedIn claims more than 500 million users worldwide, as well as a huge data storehouse from those people it is now mining and starting to benchmark against.
The social media company, which has a fast-growing talent acquisition business, put forth its biggest presence ever at an HR tech show at the HR Technology Conference 2017, including separate booths for Talent Insights and the company's learning software division.
"AI is making this possible," said Kate Hastings, senior director for Insights at LinkedIn, as a colleague gave a whirlwind demo of the soon-to-be software. "We wouldn't have been able to build this product five years ago."