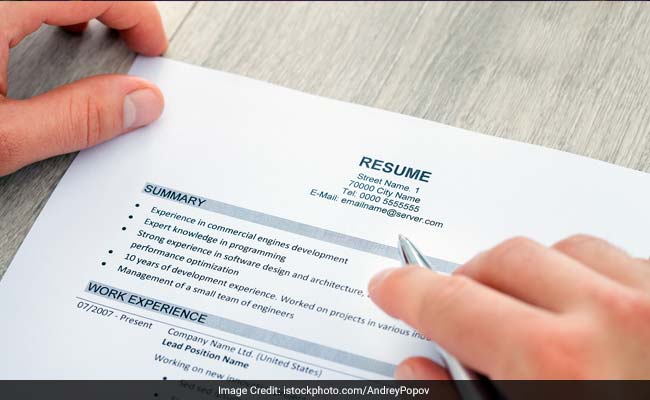 India's IT sector has faced a slowdown in recent times. With hiring activity down, while potential candidates increase, recruiters are spending less time vetting resumes. On an average, hiring managers spend just six seconds going over a resume, Simplilearn, an online professional education portal said. According to Monster.com, almost 75 percent of the resumes they receive in a week are rejected by hiring companies because of a weak resume, irrelevant experience, or for falsified information.
While one must hone their professional skills, a well-written resume which showcases the candidate's skills and captures the attention of the recruiter is an important first step to getting a great job.
 
Here are some simple tips according to Simplilearn which will make your resume stand out:
According to Dr. John Sullivan, a renowned Human Resource (HR) specialist, two of the most important sections in any resume are your job title and the organizations that you have worked with. Companies also use Applicant Tracking Systems for initial screening. Thus it is important to use the right keywords in your resume.
Remember that the one-size-fits-all approach does not work. Customize your resume to highlight the skills which best correspond to the job description. In addition, go through the job description to identify the keywords used, and incorporate them prudently to ensure that your resume is selected during the ATS scan, Simplilearn said.
Emphasize your soft skills. It is important to package your soft skills when adding them to your resume. For example, if you want to showcase your ability to work under pressure, a sentence that reads "Preferred team member to go the extra mile during last-minute situations" works better than "Can handle pressure."
Keep a section for awards you have won and your certifications that you have gained. Remember to include your career highlights while drafting your resume. Include statistics or measurable results to back up your achievements.
Relevant online presence: According to one study, 96 percent of recruiters use social media to look for qualified candidates, and LinkedIn tops the preferred social hiring tools list. That means that your LinkedIn profile should be updated. A formal profile picture, some good recommendations, and value-added work experience are the essential requisites of a good LinkedIn profile.