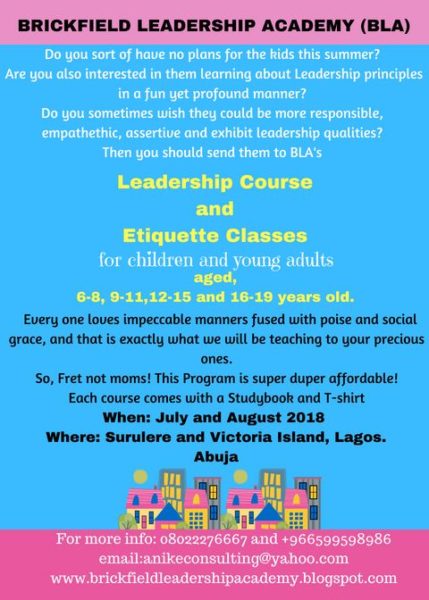 Summer is around the corner, it is the holidays and perhaps you have no concrete plans for the children just yet. Brickfield Leadership Academy is welcoming you! A place where we mentor children and young adults in a fun, relaxed yet mentally stimulating environment. Our Leadership Course is infused with Etiquette Classes and our goal is to bring back the "old school" values of elegance, refinement, poise and social grace.
At Brickfield Leadership Academy, we help your precious ones learn that they can achieve everything they set their hearts too, that they are valuable and that they too, are super stars. At BLA, we also give them a sense of purpose and help them see that inside them is locked greatness and gifts that the world is in dire need of.
At our Etiquette Classes the children will learn the art of Fine Dining, Tact: Elocution and Articulation, Communication: How to be able to make small talk and converse with everyone,
General Etiquette, including Personal Grooming and Carriage.
Older children will also learn about respect and self-respect as well as setting boundaries and grooming i.e. how to deal with child predators.
Children are segmented into the following age groups;
Bright Buttercups: Age 6-8 years old

Visionary Violets: Age 9-11 year olds

Leading Lilies: Age 12-15 year olds

Dynamic Daffodils: Age 17-19 year olds
This program is super affordable and you shouldn't miss the opportunity.
Program holding in Lagos (Surulere and Victoria Island) and Abuja
We look forward to your inquiries. Please call 08022276667, 08034733627, +966599598986
And email: [email protected]
———————————————————————————————————————————————————————————————
Sponsored Content