The way the Browns hired John Dorsey should not have happened.
Jimmy Haslam surprised me when he fired Browns General Counsel turned General Manager Sashi Brown and hired the highly lauded John Dorsey on the same day. By making that decision, Haslam provided Cleveland a huge step in the right direction.
That's especially the case considering the amount of ammunition the Browns have in the 2018 offseason.
Dorsey is the most qualified front office hire the Browns have made in some time, potentially since the team came back in 1999.  Notwithstanding the job the Haslams did in getting their man in Dorsey, they missed out on an opportunity to reform the organizational structure in its totality.
As excellent of a move as it was to dismiss Brown and hire Dorsey, it was equally dumbfounding that Haslam publicly announced his support for head coach Hue Jackson and stated that he would return for 2018.
Jackson has endured two seasons of losing, the likes of which this league has never seen before. He is now starring a 0-16 season right in the face, after going 1-15 last season.
More from Factory of Sadness
Jackson apologists would have you believe that Jackson is not culpable at all, due to a lack of talent he has been given to coach. Certainly, he has not been dealt the best hand. However, he has also done a very poor job of coaching and at this point, it's time to show him the door.
The other name that oddly remains employed by the Browns is Chief Strategy Officer, Paul "Moneyball" DePodesta. So the way the Browns move forward is just as dysfunctional as it was before, except for the lawyer being in charge of the roster.
Dorsey will report to ownership. Meanwhile, Jackson continues to report to ownership as does DePodesta. This is a flawed structure and it doesn't make any sense.
So, how should have the Dorsey hiring have happened instead?
Dorsey should have been hired as President of Football Operations. He should have also been given the say over the 53 man roster and deciding on all football-related personnel. Meanwhile, Jackson should have been fired.
Some have stated that it would have left the Browns without an offensive play-caller. My response would be, oh well. It can't get any worse, Cleveland is 0-14.
Name Al Saunders interim Head Coach and Offensive Coordinator and finish out the year. The main thing would be just getting Jackson out of Cleveland.
The people that have been part of making the Browns a mess aren't going to be the same ones who get out of it.  Too much damage has been done.
Dorsey would have proceeded with the hiring of a new head coach and bringing in his people to make up his staff. I'm sure Dorsey has his own analytics guy and this way he could bring him in while letting DePodesta go.
Along with this being the correct way to build a football organization, this would allow Haslam to disengage from everything football related. He has so much going on right now and he shouldn't have three separate higher-ups reporting directly to him.
It is a messy and flawed plan.
Putting a qualified Dorsey into a position of power would set up a proper hierarchy in which the coach he hires and his staff all report to him.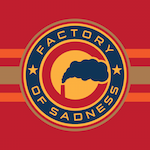 Want your voice heard? Join the Factory of Sadness team!
Haslam should be applauded for making the move to hire Dorsey. However by standing by his man (Jackson) and not seizing the opportunity to remove himself from so much of the equation, it feels like a job half done.