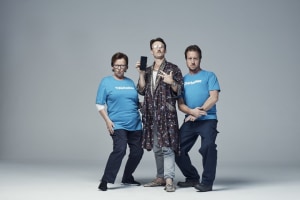 Airtasker has dropped the 'Like a Boss' slogan from its most recent campaign, following a legal stoush where competitor company Freelancer claimed it created the concept.
Freelancer.com, a global crowdsourcing marketplace, claimed Airtasker stole its intellectual property when now Airtasker VP of marketing Simon Reynolds was the marketing manager at Freelancer.com in 2012. It sued Airtasker over the 'Like a Boss' tagline, which it said was originally conceived by its staffer. 
Airtasker is still awaiting a final ruling.
In its most recent campaign, the 'Like a Boss' tagline has been replaced by "To-do, Ta-da" in a funky new film clip by indie agency UDKU.
Airtasker brand marketing manager Alexandra Tully said while the current campaign hasn't used the 'Like a Boss' tagline, it hasn't been scrapped altogether.
"The matter in question is currently before IP Australia for a final decision and Airtasker is confident of a favourable ruling," she said, referring to aforementioned the court case.
"While we've moved on from the 'Like A Boss' campaign platform, that feeling of getting things done, or earning money 'like a boss' will always be part of our DNA and we will continue to use that terminology when expressing that sentiment."
In the ad, 'Proper Wizard Wesley Hardcastle' prepares for a party by repairing a broken statue, setting up stereo equipment and building a poolside bar – using Airtasker for each task.
The campaign aims to tackle the level of guilt people feel about outsourcing tasks and emphasise the breadth of tasks you can complete on the platform.
Tully said the campaign builds on the company's 'Like A Boss' campaign, which focused on some of the company's more popular tasks like furniture assembly and removals.
"What sets Airtasker apart is the sheer variety of tasks you can get done and increasingly we're seeing a growing demand for help with smaller day to day jobs," she said.
"If there's something on your to-do list, someone on Airtasker is has the skills do it for you."
Have something to say on this? Share your views in the comments section below. Or if you have a news story or tip-off, drop us a line at [email protected]
Sign up to the AdNews newsletter, like us on Facebook or follow us on Twitter for breaking stories and campaigns throughout the day.